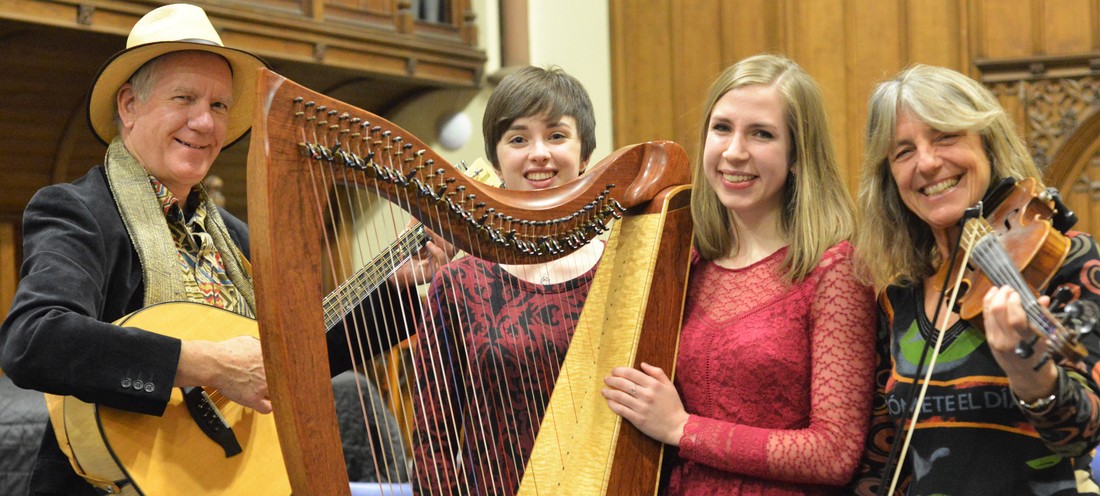 Moonrakers is an Oxford-based group of four musicians, some from the classical and some from the folk tradition. The fact that the band "just OOZES quality" (Living Tradition) is down to the careful arrangements and selection of tunes and songs, presenting "exquisite music" (BBC). Now with five albums under their belt and described as "startlingly talented" (Oxford Times), Moonrakers provide "truly wonderful" (Wycombe Festival) informal evenings of musical excellence and humour.

The choice of material is largely from the Irish, Scottish, Welsh and English traditions, reflecting a love of traditional and contemporary tunes and songs 'in the idiom'. Jon Bennett composes several of the tunes and songs, but the arrangements are down to the special talents of the group members. He explains: "We weave a tapestry of sound around the tunes and songs both old and new, giving them an entirely fresh appraisal."

Eleanor Dunsdon's Celtic harp is very much a centre piece of the group, complemented by Liz van Santen's superb fiddle, and Jon's bouzouki, guitar, whistles and bodhran. Sarah Fell is the band's lead singer, often joined in harmony by Jon. Moonrakers have received glowing reviews in the music press ("highly infectious"- Maverick; "fine organic collection of apt musicianship" - Earbuzz). They've appeared at many festivals and arts centres over the years and have built a large loyal following, especially in the southern counties.​
Reviews
​"Moonrakers are the real deal...an impressive foursome.." The Living Tradition magazine , Feb 2018
"Jon sings and plays bouzouki and guitar with aplomb...Eleanor Dunsdon's harp is a delight throughout...Sarah Fell displays adept vocal skills....Liz van Santens fiddle is exemplary.. the band plays with skill and verve"
Shire Folk magazine, Dec 2017
"Startlingly talented, performing luscious songs and tunes rooted in traditional music."
Oxford Times, May 2016
​Testimonials
"Lovely musical evening on Saturday. We always look forward to a Moonrakers concert, and this is the third time you've come over here for us!"
Jo Graves, Chipping Norton, March 2017.
"
So many thanks to the band for such a marvelous evening on Friday – I have had some lovely feedback about the group's amazing musical talent
"
Julie, Centre Coordinator, URC, Aston Tirrold, March 2017
"We very much enjoyed your talented performance last night in West Wycombe. Jon and Sarah's vocals blended beautifully, the harpist was brilliant and the fiddle a strong lead. A most pleasant and melodic evening. Well done to all of you!"
John Beaumont, Wycombe Arts Festival Director, June 2016.
"Fabulous evening! We've had so many compliments and converts to folk music. Do come back again soon!"
Deiniol Heywood, Prestwood, Bucks, March 2016
"170 people turned up and we were thrilled! Huge thanks to all of you – well played!"
Paul Spray, Wesley Memorial Church, Oxford, January 2016
"Thanks to you all for making it such a wonderful summer evening. Good music and good company".
Tony Young, Ellesborough, July 2015
"Thank you so much for the concert last night. I heard lots of very enthusiastic comments from the audience and you may have gone some way to convert some non-folkies!"
Richard Wilkins, Bampton CCC, April 2015.
"Fantastic evening in Haddenham! Very many people were impressed by your musicianship"
Jenny Hardy, Haddenham, May 2014
"Beautiful and poignant",
Oxford Human Rights Festival, March 2014
"An amazing evening; you are a truly wonderful group. Thank you."
Steve Priestley, Cuddesdon, Oxfordshire, Feb 2014.
"Your version of 'The Unquiet Grave' is the best take on this song that I've ever heard; quite magical and darkly beautiful",
Phil Widdows, Producer, FolkCast Radio, October 2013.
"
What an evening!! What a concert! Such pleasure!
We came to your concert last week and were absolutely blown away by your wonderful music. Wow! Stunning harmonies and arrangements."
Bob & Heike Hill, June 2013
"Startlingly talented, performing luscious songs and tunes rooted in traditional music."
Oxford Times, May 2016



​Folk Orchestra & Ukulele Weekends

Moonrakers run a series of Folk Orchestra and Ukulele & Singing residential weekends every year - at Halsway Manor (Somerset) and Benslow Music (Hertfordshire). These are for players and singers of all standards and include tuition, multi-instrumental arrangements and the opportunity to perform and record the results. For more information, go to www.ukuleleoxford.com

​